Premier Web Design Development company providing first-rated Web Design & Development Services.
Evia is a premier Web Design Development company in India with a decade of experience and presence in India, USA & Canada providing Web Design & Development services. We not only design websites but ensure the websites are technically functional and user friendly for your target audience. Our client servicing managers guides you through our tested & proven process, right from concept discussion to launch and further maintenance. We provide a full range of website development services, including Corporate Website Development & Maintenance, Ecommerce solutions,B2B & B2C Web Portal Development, Responsive designs for mobiles & tablets and Website redesign services.
Having delivered 500+ web projects, Evia is recognised as one of the top organization globally because we consistently deliver custom web design & development services on-time and within budgets. We are growing at fast pace primarily because of our competitive pricing and first-rated services.
---
What We Do?
Custom Web Design & Development
Website Audit & Redesign Services
Ecommerce Website Design
Content Management System (CMS) driven Web Development
Responsive Web Design
SEO friendly website development
Multilingual Website Development
B2B Website Design
B2C Web Portal Development
---
How We Do It?
Our process of executing a Web Design & Development project: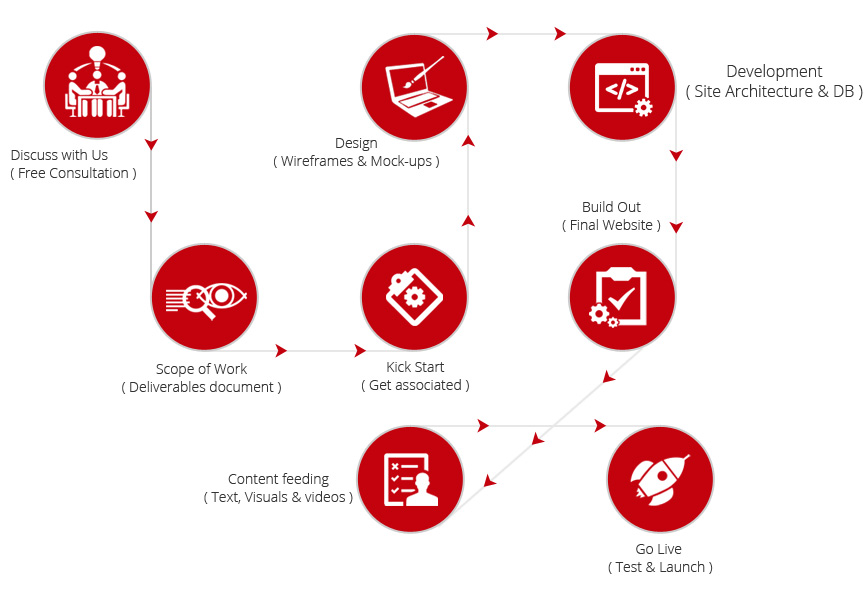 ---
Our Technology Expertise:
---
Why Evia?
Prompt & pro-active approach by the client servicing managers;
Transparent and clear communication;
Extremely talented, qualified & experienced UX Designers & Web Developers;
Tested and proven process of execution;
On-Time project deliveries within budgets;
You retain full intellectual property rights and software source;
Responsive & SEO friendly web designs;
Completion of your website project is a New beginning for us;
Guaranteed returns on your investment;
100 days of free support post project deployment.
---
Mtlexs - B2B Website Design

WNFC- Website Redesign Services

Diavana - Ecommerce Jewellery Website Design

Pollard Windows - Website Redesign Services

Indipropmart - B2C Portal Development

VES - Website Redesign Services

99 Jewels - Ecommerce Jewellery Website Design

Mtlexs (WNFA 2017) - Website Design and Development

Diseno Jewels - Ecommerce Jewellery Website Design

Prettycarat - Ecommerce Jewellery Website Design

Hansini Jewels - Ecommerce Jewellery Website Design

Brainpower India- Website Redesign Services

Alchawmetprint - Website Redesign Services

Amason World - Website Design Services